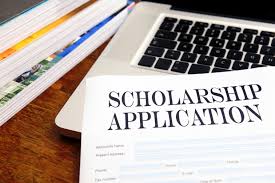 Often the main reasons that you forgo your overseas studies plan is due to the expensive tuition and= fees. Especially in the U.S and UK, where private schools dominate, enrollment in a prestigious school involves even higher costs. Therefore, an important strategy for you to realize your dream of studying abroad will be to use your edge to obtain a scholarship!
Before discussing the scholarship strategy, you should be aware where to find information about scholarship availability or education grants at a college or university. As a matter of fact, the most important source would be the Admission page! Regardless of the different webpage designs or setup of each school, you will basically find such information on the admission page for it is where information is provided regarding the registration, application process and any help you need before applying.
Other key words you may use during research is "financial aid/fund", which will normally be seen in the application section if such aid/fund is available. You don't have to worry that very few schools provide scholarships. Let me tell you, America values talents. Therefore financial aid is available at most renowned schools. But please be aware that such financial aids may be provided under different requirements and circumstances, it may not necessarily be the full amount, or it may be in the form of a subsidy for your living costs or tuition. Some will have to be applied together with your application during enrollment, some will be applied after your admission is confirmed. Clear descriptions concerning such matters should be provided on the admissions page. If you are not well informed or have some concerns, remember to contact the person in charge of registration. You should write courteously, and elaborate what you are concerned about. According to my experience, given the time differences, you will get a reply overnight!
If you have checked the in-need-of financial aid option in your application, you may request for financial aid. If the school doesn't require you to provide additional materials, then you basically don't need to make any extra preparations, however, it would be a good idea to emphasize in your PS or resume in response to the features of the faculty or department (as described in detail below) about requiring financial aid. If you need to submit other materials, you should consider the following strategy more carefully in order to find out how to show yourself in response to the preference of each program.
If you are applying for an undergraduate program, then you stand a better chance of obtaining a scholarship than a research institute program. Especially some first class universities place a great amount of resources on undergraduate students, so you will have less difficulty in getting financial aid if you are in need. Whereas doctorate programs, which focuses on a single area of studies, where doctorate students are usually able to obtain full scholarships under a good research projects, a research institute on the other hand, normally offers limited chances of scholarship (mostly partial scholarships). The main source of income is the opportunity of working as assistants to improve your abilities while making some money. (Though such income can basically cover most of your expenditures. And detailed terms of scholarship and your responsibilities are stated clearly on the admission page).
Now let us talk about how to best present yourself to persuade the school to invest in you!
A. Write an impressive Personal Statement!
1) Demonstrate a clear structured plan of your life
Like what we talked about PS last time, many people feel that the personal statement is to show yourself to the best of their ability. This is the right approach, but to some extent it is not. Think about how those impressive ads are created, do you just remember their best parts and messages? Focus, completeness, clarity and liveliness are their common features. Therefore, the key part of your job is how to narrate the joys and sorrows, highs and lows of each story and experience vividly. How to describe that you have discovered what you are looking for, your destiny after going through such pains and hardships. Remember, you don't have to tell everything, the key is to impress with each paragraph written.
2) Focus on your specialty
Don't overdo it. The most challenging but valuable part of the essay is writing appropriate and engaging content. I mentioned under point number one that you need to impress by showing how special you are. But now I say to stay focused on writing content relevant to your specialty major, which means that you should not highlight only features of your personality blindly. Personality does impress, but it does not contribute to your chances until it perfectly matches the program's features and requirement. In a perfect PS, you have to make the adcom committee feel your strong motivation, have them moved by your passion and your story, and have them convinced that you are fully prepared to complete your studies under that specialization.
B. Extra-curricular practices and work experiences
Famous schools in the U.S. value the quality of their students not only in terms of academic performance but also their expectations of a well-balanced personal development. As mentioned previously about higher probability for scholarships in a research institute, more chances are given to working assistants. Therefore, it is especially important to prove that you can implement into practice the knowledge you have learned.
Successful applicants for good universities or challenging programs must be very strong academically. However, solid work experiences and extra-curricular activities will help you make a difference. Meanwhile, detailed, specific and impressive descriptions of your growth out of those experiences will greatly increase your chances to win a scholarship
C. Maintain contact with professors and the school
At the research institute each person has his or her mentor professor. For many projects, whether or not you can get a scholarship is at the discretion of the professor. On the official website for the program application, you can see who your future mentor professor is and the area he or she is specialized in. If you are really passionate and ambitious about the program, you are recommended to spend some time reading the works of your mentor and express your enthusiasm by writing and email and discussing with him or her what you are interested in.
As you demonstrate your wisdom, humor and passion in your communications with the professor, and the professor comes to understand who you are and gets along with you, you surely have a much bigger chance of winning a scholarship.
D. Avoid hot in-demand programs
If each specialty provides the same number of people with scholarships, you have a better chance to win if there are fewer applicants under your program. But never choose a less popular program that is neither in your interest nor to your liking just because of the chance for a scholarship. I just want to tell you that the current hot programs will not necessarily mean a hot career in the future. Why not choose a less popular specialty if you like it? Perhaps it will be in-demand in ten years. Find the main theme of your life, choose what you love most, and your passion will drive you through the end. In case you don't have any specific preferences, then consider your financial strength, area of studies and interests, and you may find some less popular programs which offer scholarships as a good choice.
Of course, there is no 100% guarantee that you will win what you are striving for, to some extent luck plays a part. Nonetheless, make sure you stand a higher chance by preparing yourself better when pursuing studies overseas. As it is evidenced by the law of attraction, when you are fully determined, you win support from all! I wish you good luck in your entry into a first class school!