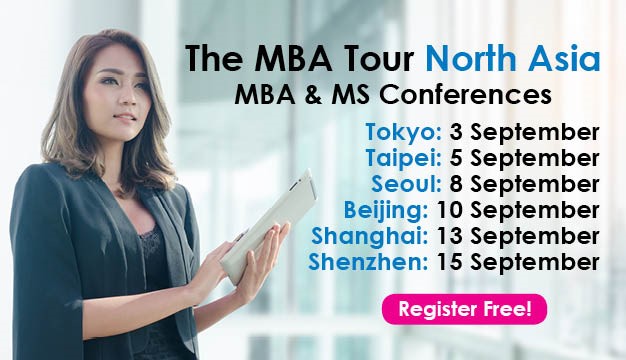 \\
Meet Columbia, Boston University, UCLA, IE, INSEAD, and more top business programs!
Join us in a city near you:
Tokyo: Monday, 3 September
Taipei: Wednesday, 5 September
Seoul: Saturday, 8 September
Beijing: Monday, 10 September
Shanghai: Thursday, 13 September
Shenzhen: Saturday, 15 September
Why should I attend The MBA Tour?
The world's top business schools, all in one place. Stand out from the competition and meet with Admissions Directors from top domestic and international business schools. Connect in-person to ask your MBA questions, learn about program offerings, and discover how a graduate business degree can help you boost your career.
Small group meetings
Admissions panels
GMAT strategy sessions
School presentations
Networking fair
& much more!
Who will I meet?
Connect with admissions decision makers
You'll have the unique opportunity to meet with admissions decision makers to increase your chances of acceptance.
Learn in-depth program information and ask your MBA questions during MeetUp discussions (invite only, small group meetings).
Discover admissions tips from industry leaders.
Network with the people that matter when it comes to getting accepted to your dream school.
How should I prepare?
Complete your online profile to be matched with top schools.
Provide helpful information during registration to let schools learn about you and your goals and have them invite you to meet with them during MeetUps or School Presentations.
Use The MBA Tour's Research Schools platform to learn more about program offerings and options.
Log into The MBA Tour's online portal to easily confirm MeetUps and build your schedule to make the most of your event.
Great, sign me up!
Register free today to reserve your spot. Space is limited!
Business Schools Attending
*Schools vary by city; check event pages for individual listings. More schools to come.
Bentley UniversityBoston University

Carnegie Mellon University

CKGSB

Columbia University

Emory University

ESSEC Business School

Fordham University

Fudan University

George Washington University

Hitotsubashi ICS

HKUST

Hult Intl. Business School

IE Business School

IESE Business School

Indiana University

Johns Hopkins University

National University of Singapore

Purdue University

Queen's UniversityRotterdam School of Management

SMU Cox

Syracuse University

The University of Chicago

Tulane University

University of Alberta

University of British Columbia

University of California, Los Angeles

University of California, Riverside

University of Exeter

University of Manchester

University of Maryland

University of North Carolina

University of Southern California

University of Texas at Austin

University of Toronto

Washington University in St. Louis

William & Mary

Yonsei University