Link to us to share the growth!
1. Are you a blogger? Do you enjoy blogging about your life with friends through written words? Top Admit would like to collaborate with bloggers by linking to you. By doing so, we could increase the visibility of both your blog, and our company. As an incentive, bloggers will receive a 15% bonus from us!
Example:
http://www.cwyuni.tw/blog(bottom right)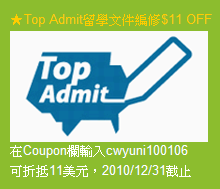 http://www.wretch.cc/blog/dameinui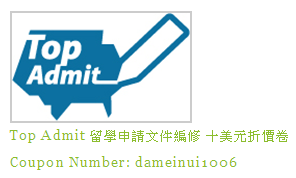 If people use the coupon code they found on your blog, you will receive money that could amount to a few hundred or even thousands of dollars of bonuses from Top Admit!
2. For those of you who do not have a blog -- you also have an opportunity to join our marketing system. Please contact service@topadmit.com and we will tell you how you also can share a 15 % bonus from us!